Testimonials
Fantastic service and an even better result for the hats. They are very well done and Robin was there every step of the way to ensure it turned out as I imagined!
---
Lisette was awesome ! This was my first hat order . She guided me through the process . Our hats came out great !! We get a ton of compliments. Thanks for all of your help Lisette !!!
---
Robin was exceptionally responsive in guding me through the process. I had some questions and concerns, not having done this before and she addressed them perfectly. Finally, I love the look and quality of the embroidered baseball caps with our company's logo. Well done!
---
Good quality hat and embroidery. Very popular with our staff. Easy ordering, helpful salespeople, and quick turnaround. This is our second order with Customizedwear.com because the first was great!
---
We placed an order for custom Richardson hats as a "teaser" to see how the process went. We quickly sold out of them. We were so impressed we placed a second order for twice as many. I recommend CustomizedWear!
---
I have ordered hats from Customized Wear multiple times, and each time I have been completely satisfied with the service, turnaround time, and quality of the products. I highly recommend them!
---
Fast response with any questions and hats turned out better than expected. Will be ordering from customized wear again.
---
We have placed a couple of orders on this site and have no complaints. Our employees and clients absolutely love the customized camo trucker hat that we usually order. The ordering process itself, is the easiest thing and they are very quick to reply to your questions. I know we'll be placing many more orders in the future.
---
I have ordered customized products from Customized Wear multiple times, and each time I have been completely satisfied with the service, turnaround time, and quality of the products. I recommend them without reservation!
---
We ordered trucker hats for our 40th birthday (years ago) with a personal embroidered logo and they came out amazing. We get so many compliments! Just ordered another dozen and they knew exactly what we wanted.
---
I needed a dozen hats in a small window of time and Customized wear delivered perfectly. The hats look great, good communication, and fast service!
---
We have ordered embroidered hats several times from here and are always pleased with them and the service. Highly recommended!
---
We have worked several times with Robin to order her uniform hats for our business customers. She is always a pleasure to work with and has excellent communication skills.
---
At Innovative Skilled Trades, we only order our beanies from Customized Wear/Hatco. We get them personalized with our logo, and the process is super easy and quick. They always make sure to verify what we want in order to make sure that we will be satisfied with the final outcome. I would recommend them to anyone!!
---
Customizedwear.com has been a pleasure to work with. I love the fact that I get to talk to the same customer service representative everything I reorder, this makes ordering soo easy! The embroidery is always top notch and the hats are always just as described. Thank you Customizedwear.com!
---
I had an excellent experience with Hatco ! Excellent customer service, nice products, I will definitely order again :)
Marie-Laurence Desaulniers
---
Ordering is always a breeze and dealing with the same person every time makes it even better. the production is quality and fast and the shipping quick.
---
Ordered a variety of different hats and customer service went out of their way to send pictures of samples and their opinion on how well they were turning out. We reordered several different hats within a few weeks because they were such a big hit.
---
Lisette has been our rep for our orders and she is very quick responsive to all my email and efficient. The hats we have order we are very please with and our employees put customers love them.
---
The hats came out exactly as we wanted. Thanks so much!
---
Lisetta has been my rep on both of my orders, she is quick and efficient. Excellent quality in hats with great one-stop price from lettering to embroidering logos.
---
This is the second order our company has placed for these hats. Ordering online was quick and easy. The quality of embroidery was perfect and the sales team was very courteous and helpful. Our employees love these hat.
---
We received our hats after several weeks of correspondence and working back and forth on making the logo just right, picking out just the right hats, getting the price point in the range we could spend. Robin was right there helping all the way. The hats and embroidery are right on. They worked with the logo to make it work out and look the best. Our customers love the hats.
---
I've place several orders with customized wear and always get good results. The selection of hats is great and the turn around time is quick. My interactions with customer service have been pleasant and professional. My only reason for not giving 5 stars is the choice of embroidery colors is somewhat limited and the process for setting up the embroidery when you order multiple styles is cumbersome. Other than that, I'm a satisfied customer who will continue ordering.
---
Great and prompt customer service and overall high-quality outcome! Placing our second order with them now, the price is right and the turn around is quick considering the design is involved. Thanks for being easy to work with!
---

Everyone I dealt with during the whole process of ordering samples to receiving the finished product was super helpful and patient with my questions. I found the exact style of hat I was looking for and the screen print quality was great. In less than one week I'm close to selling out my current stock of trucker hats and have already placed a reorder! Thanks for the great work!
---
working on placing my 2nd custom hat order. I was a little hesitant at first especially trying to do an on-line order but let me just say I haven't been disappointed at all!! the quality of their products and customer service is absolutely outstanding. Lisette has been a big help in putting together my orders. thanks!
---

We have re-ordered numerous times and will continue to. The product is top notch at a good price point and the service has been tremendous. Highly Recommend!
---
I was initially a little hesitant to place a custom online order nonetheless, Lisette was great help. She was available to answer all questions via email and phone. I placed an order and received my merchandise within a week. The quality and detail of the embroidered logo look great. We will be using this company for future orders.
---
I have placed a number of orders for custom caps. The quality and customer service has been outstanding. Robin has taken excellent care of me each time and has made the process even easier! Highly recommend!
---
Everything from placing the order with customer service to working with the staff on production to the final product was nothing but spectacular! The finished product was better than expected and we continue to place reorders, highly recommend!
---
We were very pleased with our order! All of the caps looked fantastic and Lisette was very pleasant and helpful when we needed a rush order!
---
Very pleased with my last 2 orders. Quick Response time and quality work
---
Robin, our company's Customer Service Specialist, has been a great partner. She went above and beyond to get us comfortable moving forward with our first order. We will be submitting a reorder very soon.
---
These were the best caps we've ever ordered. We had some very specific design requests and logo position and they make it look GREAT. The thread color match to the mesh back was perfect. Clean and classy embroidery and we immediately reordered the same day we got our order in.
---
Our Veterans Group ordered a small number of Flexfit caps with our logo. They sold out in minutes. I'm placing a reorder today! Customizedwear delivers a quality product with great service (Lisette is awesome!). We'll be a customer for years.......
---
I found the perfect fitting hat and a company that can put my logo on it. Very pleased.
---
We were very happy we picked customizedwear.com to embroider our company hats. Lisette was very helpful and the team made revisions to our logo to make our hats turn out very good looking and professional. Thank You!
---
This is my 3rd order and my hats turn out great every time. I also love the quick email replies and how easy it is to get an order placed!
---
We have placed several orders with Lisette at Customized Wear and have been pleased every time. Quality, service, delivery and pricing has been excellent each time. Lisette goes out of her way to offer excellent customer service! We will keep doing our hat orders through Customized Wear.
---
Great hats and embroidery turned out wonderful! Placing my 2nd order!
---

Lisette and the Customized Wear team are awesome. This was my second run of hats with them. The original design I wanted on the hat did not turn out as I had hoped. She immediately got sample made with my backup design at no extra cost and got the order fulfilled very quickly. Thanks Customized Wear!
Roo Grostein, host of Local Smoke Radio
---
2nd time ordering from CustomizedWear and feel their customer service is excellent. They communicate through email as well as phone in a very friendly manner. Hats look great as well!
---
Excellent customs hats. Placing another order today!
---

This is my 2nd time ordering hats from CustomizedWear.com . From the online ordering process to uploading my logo for the hat, it's been a super easy process. They sent me a sample and everything was correct. Got my shipment super fast! Thanks
Christee Holbrook with Graham Roofing Incorporated
---

Very user friendly process, very prompt and accurate service. Love the hats, thing turned out great. Very pleasant and friendly to speak to on the phone as well. Thanks.
---
I really like having all the options and in the end, the pricing is great as well as the process. I really appreciate the prompt email conversations.
---
We've used customized wear now for several jobs, they've always been very organized when it comes to making sure the product is right the first time, I love that they give you a sample before going to production. You won't find a better price for the quality.
---

This is my 3rd time ordering hats from CustomizedWear and it's been a pleasure every time. Robin is always friendly and will work you through the process. It's easy, the work is very high quality, and the prices are good too! The 6606T trucker hat style seems to fit everyone really well--not too big like some trucker hats. Thanks to everyone there, I'm very happy with your service and product...
---
Placed a few large hat orders with embroidery for some company swag. Easy and convenient ordering and proofing process. Appreciated the quick responses - they were so easy to work with! Would definitely order from again.
---
Best Hats Ever! We received our order so quick and the sales people on the phone were so helpful and informed about the products! The website is very user friendly, and in these days of online ordering, the product exceeded our expectations! Great quality and styles! Re-ordered already! Thanks so much! -Heather
---
This was my second year working with CustomizedWear and I love how clear the communication is with them on my unique embroidering orders. I will definitely continue to be a repeat customer!
---

Hats were perfect, customer service team does an awesome job!!!!
---
Excellent Job! I had several changes on the artwork to get it just right and they were patient with me each time. I have already placed my second order ( for another hat product) within days of receiving the first.
---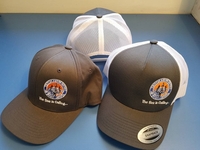 Customized Wear is a great company to get your gear from. They are really fast, and help you get the look you want the first time. We are repeat customers, and we highly recommend their services!
---
Blessings World....
Just want the world to know that CustomizedWear is a great company who produces Quality work. Ms.Robin is amazing and always on point when it comes to business her team work is Impeccable. This is the 2nd time did business with them in a month. I will definitely be ordering restock in a few weeks.
Thanks
---
Lisette and the good folks at CustomWear are total pros. Responsive, personable, professional. I will definitely be doing more business with them.
---
robin and the customized wear team have always provided great timely service with great products, i would never go anywhere else
Jeremy Macias/Lane Plumbing
---
Great service! The layout of the website lets you easily find the right hat, but the best part is the Customer Service that helps you customize your hat. All we had to do was describe what we wanted and their team made us visuals. That's probably the best part, seeing the products done before saying yes to production. Thank you!
---

The overall experience that I had was top notch. The personnel was excellent. They helped me at every step. I mean the email response was same day within the hour. I'm definitely working with them again with a second order. Thanks Lisette
---